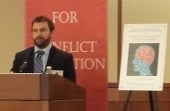 Dr. Daniel Bederian-Gardner
Post-Doctoral Fellow
Email: dbederian@ucdavis.edu
I am interested in various issues relating to children's involvement as witnesses in the legal system. My research focus is on the interplay of children's moral development and testimony. Other projects involve studying how different characteristics of the child witness might influence judgments of their credibility by potential jurors as well as looking at aspects of true and false memory across development. Lastly, I also study the impact of foster care on mental health outcomes.

Dr. Deborah Alley
Post-Doctoral Fellow
Email: dalley@ucdavis.edu
My research interests include examining the socio-cultural factors that influence adults' perceptions of minority children's credibility as witnesses in child sexual abuse cases. I am also interested in the developmental trajectory of children's perceptions of racial discrimination using a model that examines the interaction of cognitive, situational and individual variables.
---